Packing for All Day Hunting During the Rut
by Elevation Equipped on November 14, 2019
Must Have Essentials for Hunting the Rut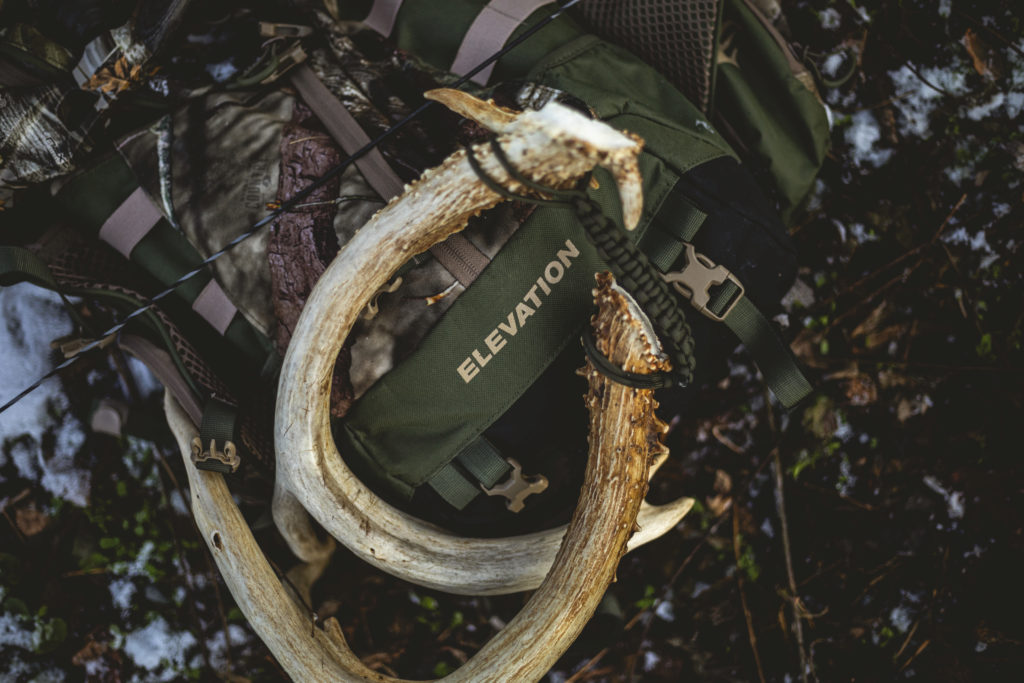 Whitetail hunters live for that magical, annual event when mature bucks let down their guard and have only one thing on their mind. This extraordinary and marvelous occurrence that is so exceptional to hunters is known to most as the whitetail rut. The rut refers to the window of time when female doe whitetails come into estrous, and whitetail bucks have a chance to pass on their genetic DNA. This may sound like a simple and plain occurrence, but once you've experienced a rut crazed day in the whitetail woods, you are absolutely hooked! Bruiser bucks on their feet during daylight hours, and whitetails on the move all day long make for not only immeasurable hunting opportunity, but also offer an immersion experience that is second to none. For hunters that are willing and able to stick it out all day, long hours in the woods during the rut can offer you the best opportunity at not only finding that trophy buck, but also at experiencing fast paced and hormone crazed deer behavior.
Triggering the W

hitetail Rut
As with any incredible annual event, especially one celebrated by hunters, there are loads of theories, wives tales, and folklore as to how and why the rut is what it is. For generations, hunters have theorized that the rut is kicked off by the weather, the moon, or maybe by barometric pressure. Science has proven that the true catalyst to the rut is photoperiod.  
Photoperiod refers to the amount of daylight compared to darkness.  In North America, the photoperiod decreases in the fall as the days get shorter and the nights longer. In autumn as daylight hours begin to fade, a buck's eyes collect the natural daylight and right on cue, trigger a change in melatonin production. It's this melatonin change that in turn generates a spike in testosterone in bucks and estrogen in does, the rut will immediately follow.  
It's impossible to deny that things like cold fronts and moonlight can affect the intensity of the rut, but it's the photoperiod that will consistently predict the rut and its phases.
Making the Most of the RuT
Because of the cherished nature of this time of year, hunters schedule vacation days, juggle schedules, and do their best to be in the woods based upon rutting activity. Whether you hunt solo from a treestand to get close to a trophy buck you have a history with, you hunt at the family deer camp thick with tradition, or somewhere in between; hunters are only successful when they are hunting.
It may seem obvious, but one of the most critical aspects to hunting the rut is putting in your time. When deer are on their feet and on the move during daylight hours, it's time to strap on your pack and get out there.
Packing for an

 All Day Rut Hunt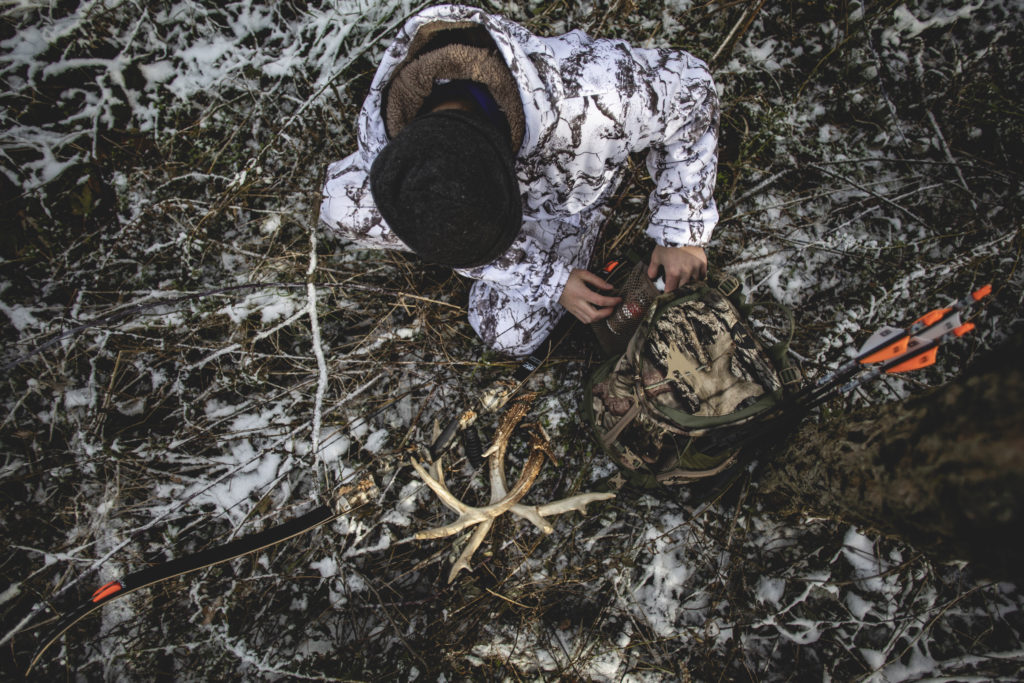 Although deer are at their most active during the rut, long sits in the stand can still be tedious and trying. A multitude of factors will influence your time in the woods, and if anything is predictable, it's that deer are unpredictable. It's a hunter's responsibility to be prepared for the hunt.  
The factors you can control during your hunts may seem limited, but bringing with you a hit list of critical "must have" items, and some not so critical "nice to have" items can go a long way to helping you put in the hours on the stand.
Rut Hunt Mu

st Haves
There are a select few items that will make or break your time in the deer woods. Items that keep you legal, make you comfortable, and keep you safe are must have items in the woods for your hunt this fall. 
Hunting License & Game Tag

 – Obviously

 you need to be legal and understand the hunting regulations for the area you are hunting in. In all the excitement to get in the woods, don't forget 

your license, tag, and a way to attach your tag to your deer. 

 
Hunting Knife & Field Dressing Kit

 – 

Game meat is an amazing resource, and feeding your family and friends is a big part of hunting. Make sure you're ready to take care of the meat when you fill your tag. Items in your field dressing kit could include: nitrile gloves, a couple game bags, 

para

cord

, a couple zip top bags, a honing stone, and a contractor bag.

 
Gloves, Stocking Cap & Chemical Hand Warmers – 

Autumn

 weather is unpredictable at best, and the surest way to limit your time on a hunt is by getting chilled and throwing in the towel. A f

ew extra layers coupled with the use of chemical warmers placed in your boots, behind your kidneys, and in your gloves can keep you in the game when that bruiser buck comes cruising by.

 
Rattling Antlers and Grunt Tube –

 Some hunters may argue that calls i

n your pack are not a must have for the hunt, but when you are considering the rut, calling can be extremely effective. Bucks become territorial, especially in pre-rut 

when does are just coming into estrou

s, and being pursued. Producing a buck fight from yo

ur stand can be an incredibly productive tactic. 

 
Safety Harness –

 Don't become a statistic, if you're hunting from an elevated platform wear a safety harness that is tied off. Ascending and descending a stand are the most vulnerable times, so tying off to

 a safety line is recommended.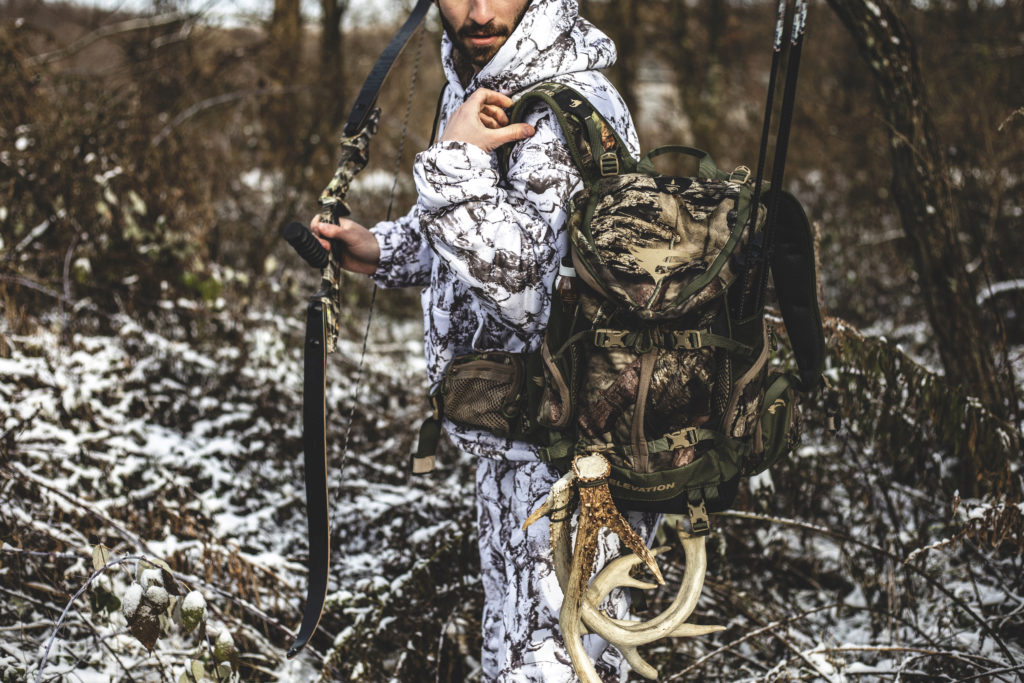 The Right Pack for Rut Hunting Essentials
Choosing a pack that is suitable for your hunt is one of the few factors you can control. 
Packing in longer distances, being mobile and covering country, or hunting from a small stand or blind can lend itself to choosing a smaller form pack. Look for a pack that is rugged and reliable, yet still versatile. If you're packing light and only bringing essentials, your pack must be organized and have a place for everything.
The Canopy Tri Zip 1200 by Elevation Equipped is an ideal choice for hunting the rut this season when you're looking for a pack that is both versatile and highly functional. The Canopy pack offers wing pockets and multiple main pocket access methods to allow for easy access to all your gear while keeping it organized. The highly adjustable harness system will adapt to fit over your cold weather layers, and snug down for warm afternoon hikes. The Elevation Equipped Canopy Tri Zip 1200 has all the right features for hunting the rut this fall.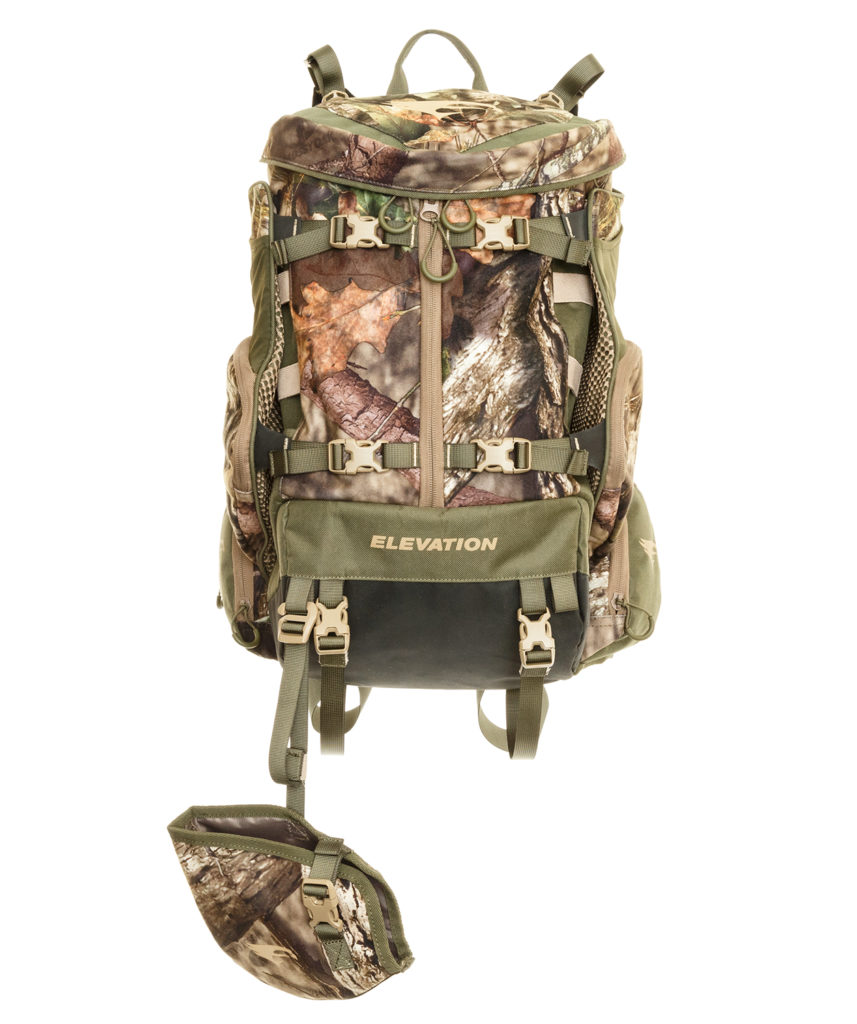 Packing for an All Day Hunt 

During

 the Rut
Aside from the "must have" items in your pack, planning all day sits calls for some extra gear to keep you in the game. Days may be short this time of year, but making an all day sit, even during the rut, can be brutal. Here are some items that will help you be in the stand and on the hunt when that buck shows up: 
Snacks and a Drink 

– Parking it all day in prime whitetail habitat, near a bedding area, or a transition zone 

will ideally offer a lot of deer encounters, however, you are bound to get hungry and thirsty. Packing your choice of sweet or salty snacks, and a bottle or two of water will go a long way to helping you stay in the stand. If you're willing to risk the sce

nt, a small vacuum bottle of hot coffee can reset the hunt timer and help you refocus. 

 
Reading Material

 – Electronic readers, tablets, and smartphones have changed the way readers consume their favorite books, magazines, and blogs. Bringing 

along a favor

ite book, or e-reader is a great way to break up the monotony when the hunt seems slow.

 
Electronics & Battery Packs

 – The use of electronics during the hunt has become commonplace, and rightly so. Whether it's an action camera capturing memories to share,

 a mapping application keeping you on the right side of an imaginary line, or a DSLR Camera capturing artistic images from your time in the field; these tools can all play a role in a successful hunt. Battery packs, external power packs, and charging cable

s are critical components when you are utilizing electronics on your hunt.  

 
Binoculars & Rangefinder 

– Quality optics will change the way you hunt, where you hunt, and your understanding of the deer you are pursuing. From simply watching a far off doe, t

o spotting a bruiser buck coming your way, a good pair of binoculars should find their way into your pack. 

 
Accurately judging the distance to the target is critical to accuracy. Having your rangefinder at the ready and accessible can be the difference between filling your tag, or not.
The All Day Deer Hunting Pack

 
Elevation Equipped's Emergent 1800 pack is an ideal choice for all day hunts during the rut. This feature rich pack is large enough to accommodate extra clothing layers, rain gear, optics, and even lunch with 1800 cubic inches of storage, while not being big and bulky. The bucket style design maximizes capacity while still offering organized storage layers. 
The Emergent 1800 pack includes a detachable drop pocket that is reversible, allowing you to attach your gun or bow to your pack, on either side. Extra engineering went into this pack with quick access stretch pockets, and an adjustable internal frame to customize your pack to your torso length.
Hunting the Rut
Time in the woods in pursuit of a rutting buck is challenging, rewarding, frustrating, and amazing all at the same time. This season, strap on your pack with the right gear, and ensure you'll be on the hunt when that bruiser buck lets down his guard.
Posted in Blog