Above Standard Technology
In order to be the best, we dug deep into the details. We use only the highest quality materials and have created ways
to elevate our products to make them superior. Above standard is the standard for Elevation.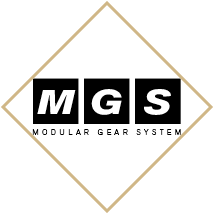 Modular Gear System (MGS)
Elevation's MGS was built for every shoot and every season with highly configurable components.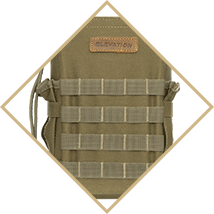 Universal Adaptive System
Conveniently located straps allow for unlimited customization and versatility in the field.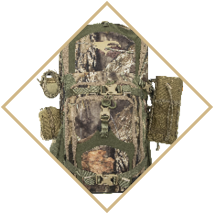 Pack-Ready
Configure with MGS-compatible packs, as well as coordinating components.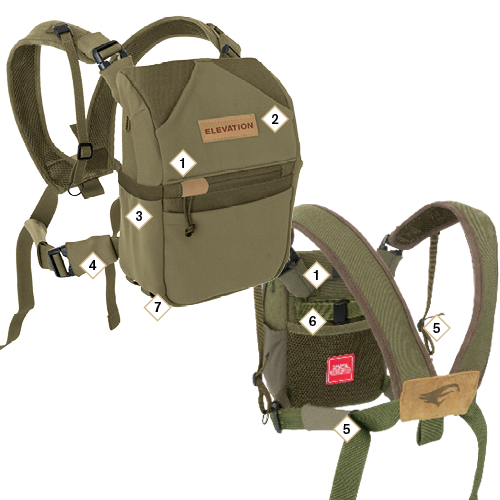 The Encompass Bino Harness takes your hunt to the next level by keeping your optics protected, secure, and accessible. Designed with a dual-magnetic closure system, for one-handed operation, the fully-encased harness provides maximum protection.
(Part of the Elevation Modular Gear System)
Dual-Magnetic Closure System

for one-handed operation, fully-encases binos for maximum protection

Integrated Lens Cloth
Stretch Pockets

6 strategically located stretch pockets

Neoprene sheathed quick-connect buckles

create a stealthy on/off design

6 points of adjustment

versatile fit to suit all body types

Integrated Tree Strap
MGS Compatible

customize your setup with other MGS gear – rangefinder case, utility box, etc.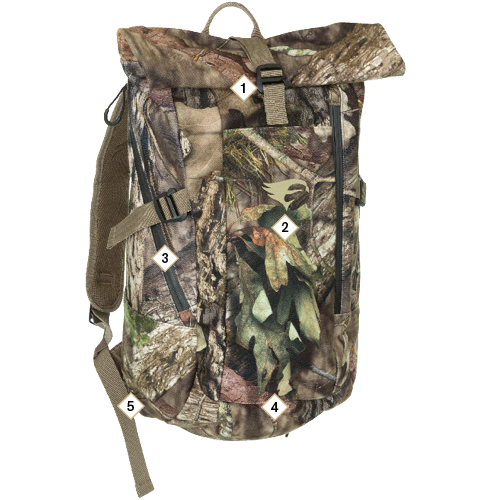 The Suppression Silent Pack is expertly designed to maintain stealth in the woods. This 1230 cubic inch pack limits noise while optimizing pack-ability. Featuring a roll-top enclosure and silent exterior zipper accessory pockets, your gear remains easily accessible.
Roll-top, Top-load Main Compartment

allows the pack to extend to 1500 cubic inches, plus quiet access to the main compartment with no primary zippers

Tri-layer Brushed Tricot Fabric

essential for noise suppression

External Accessory Pockets

features three magnet closure pockets and three silent zipper pockets providing the hunter ample exterior storage

Bow Pull-up Rope

built-in bow rope drops down from the bottom providing quick access

Orange Rain Cover

integrated orange rain cover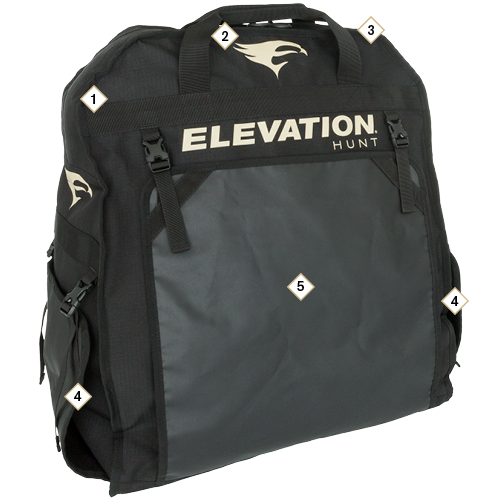 The Totality Scent Bag is a carry-all scent containment bag featuring exterior boot storage capabilities. The stand-alone structure provides 5500 cubic inches to easily organize and store all your gear. A changing pad is conveniently attached to the exterior for changing on the fly.
Stand Along Construction

triangle construction allows this bag to stand alone with 550 cubic inches of storage space

Scent Containment
Silver Interior

provides contrast to easily locate gear

Exterior Boot Storage

keeps your wet and muddy boots out of the main storage compartment

Exterior Changing Pad

conveniently folds down for changing on the fly in wet environments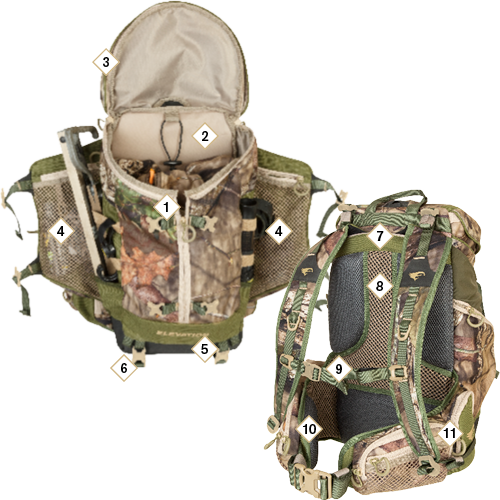 The Canopy Tri-Zip 1200 optimizes ease of access and pack-ability. Your vital hunting equipment is readily accessible via the perimeter wing pockets while the tri-zip main compartment offers unfettered access to stored gear. The adjustable yolk system and dual-density shoulder straps offer custom comfort for carrying light to heavy loads for all physiques. A bow haul system with cam cradle adds even more versatility for your treks through the woods.
Tri-Zip Design

optimizes ease of access and pack-ability

Top-Load Main Compartment

provides unfettered access to stored gear from the treestand

Weatherproof Storm Flap

keeps main zipper protected from the elements

Two Exterior Wings

provides multiple storage and organization options for vital accessories

All Terrain Base

rugged all-weather construction

Removable Drop Pocket

RH/LH quick-connect cradle that centers bow/rifle for balanced weapon hauling

Fully Adjustable Yoke

repositional yoke allows for custom adjustment to suit desired fit and comfort

Breathable Back Panel
Adjustable/Detachable Sternum Strap
Padded Hip Belt

accommodates up to 60" waist

Exterior Accessory Pockets

provide additional easy-access storage solutions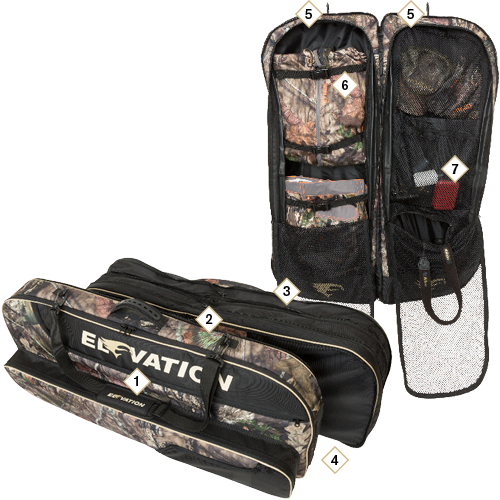 The Suspense is a truly revolutionary bow case. Drawing inspiration from the entire hunting experience, we created an all-in-one solution for your ascent to the ultimate hunting location. The inventive design is highlighted by a garment section that detaches from the bow case and can be suspended from your truck door, a fence, a random branch — you get the idea.
Premium Bow Case

with bow straps and string and cam cradle

Two-piece design

expandable and detachable sections for all your gear

Detachable Garment Bag

hanging garment bag detaches for easy access to equipment

Field Mat Included

keep your socks dry while changing in the field

Suspension Hooks

hang garment section from your truck door, branch, etc.

Garment Storage

strap and buckle system keeps clothes organized

Accessory Compartments

see through containment for quick access