Your Mathews Vertix Deserves An Elevation Equipped Bow Case
by Elevation Equipped on March 25, 2019
Elevation equipped | mathews vertix bow case
There is an old saying that goes, "What have you done for me lately?" That is a question that you can't ask Mathews. It seems before the archer can think about what he might want in a new bow Mathews has one to hand them. Mathew's newest offering, the Vertix, is Mathew's flagship for 2019, a combination of versatility and performance.
The split limb Vertix features Switchweight modules which allow the peak draw weight to be changed in 5-pound increments. Available in 60, 65, 70 and 75-pound peak weights, each set of modules are programmed for an incredibly smooth draw.
The new Engage Grip provides a grip interface designed to ensures consistent hand placement, reducing torque and increasing accuracy. Experienced archers know that consistent hand placement is a key to accuracy. The new Engage Grip is designed to make consistency happen every time you draw the bow.
While more versatile than ever, silence and efficiency remain first and foremost with Mathews, offering 20 percent less vibration than the Triax, the Vertix delivers a very smooth bow. Vertix users all speak of zero shock and vibration and is a remarkable forgiving bow. Forgiving is a term often used by experienced shooters to describe how a bow reacts to a bad shot. The more forgiving the bow the less the impact of an error on the shot. A bows forgiveness is a feature of a well-designed bow.
The Vertix has a 6-inch brace height and measures 30 inches axle to axle with a 343 feet per second IBO Rating. The bow offers 80 or 85 percent let-off and draw lengths of 26 to 30.5 inches. Tipping the scales at a mere 4.67 pounds the Vertix is a pleasure to carry in the field. The Vertix offers some eye-catching finishes as well. It is available in Black, Stone, RealTree Edge, Barren, Elevated II, Forest, and Subalpine.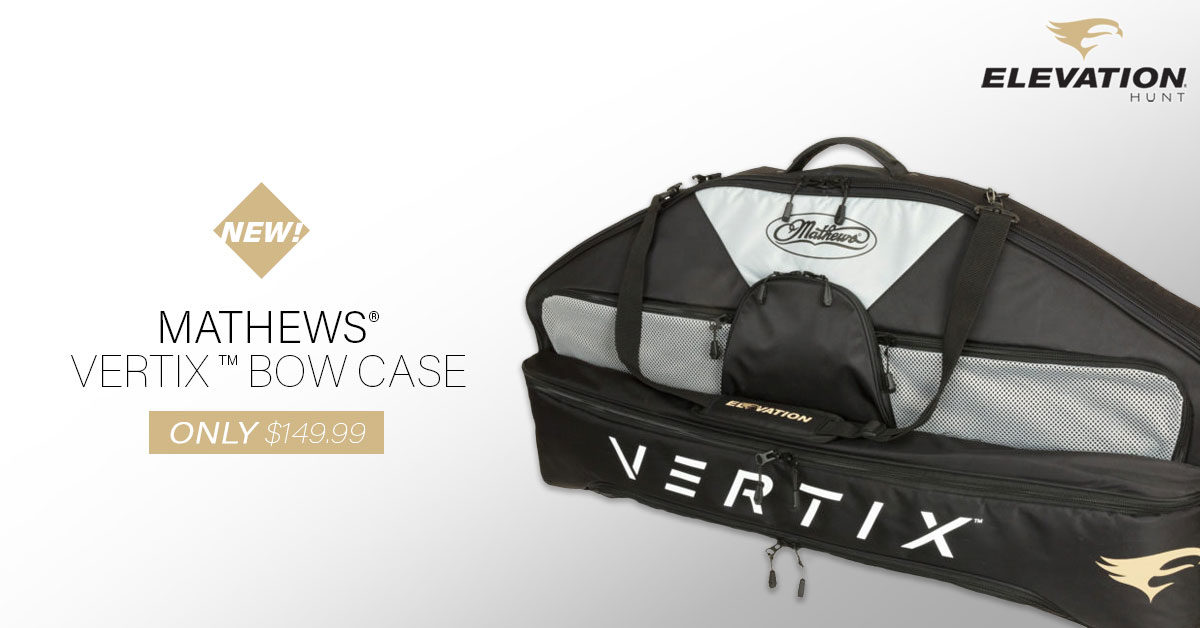 It is said that it is not classy to put mud flaps on a Cadillac and the same might apply to a bow case for your Vertix. Why settle for an ordinary case when you can get an Elevation Vertix bow case? Kinsey's Archery Products offers just such a case through its Elevation Division. This bow case was produced in anticipation of and specifically designed for the 2019 Vertix. Featuring molded EVA Sides Plates and SBS zippers. Skid plates provide added protection and an ergo-padded handle makes handling comfortable. Padded shoulder straps make carrying easy. The 40 inch by 19 inch by 3-inch interior is ample and features bow tie-downs for added securing. A large outside pocket accepts arrows, stabilizers, quiver etc. and a large outside accessory pouch provides adequate room and easy access for shooting accessories or personal items. The black and silver case also carries the name Vertix predominately displayed along its length telling everyone its owner cares enough to shoot the very best and protects it with the best as well.
Posted in Blog