Is An Archery Stool Right For You?
by Elevation Equipped on April 29, 2020
4 Important Benefits of a 3D Archery Stool
The sport of archery is 90% mental.  However, there is the undeniable physical aspects of archery as well.  
3D archery also requires some additional planning to make sure that all your proverbial ducks are in a row, and that your equipment can serve you as optimally as possible. 
Over time, you'll discover what works and what doesn't. You'll also make the necessary adjustments or additions to your equipment list. 
One of the biggest challenges on the 3D course is finding an efficient method to pack all your "stuff", and do so in such a way that doesn't cause a burden during your shoot. 
In 2019, we launched an exciting new product that checks many boxes for many 3D shooters. 
The Elevation Nest Shooter Stool became a problem solver and game-changer for many archery enthusiasts and competitive 3D archers. The Nest Shooter stool eliminated the need for some of the more unreliable DIY stool projects which shooters have had to resort to in the past. 
Before you determine the right path to take regarding your supplemental archery equipment items, you'll need to keep a couple of considerations in mind.  In doing so, you'll be able to determine if a shooter stool is right for you. 
Below we've outlined 4 important benefits of having a 3D archery shooter stool.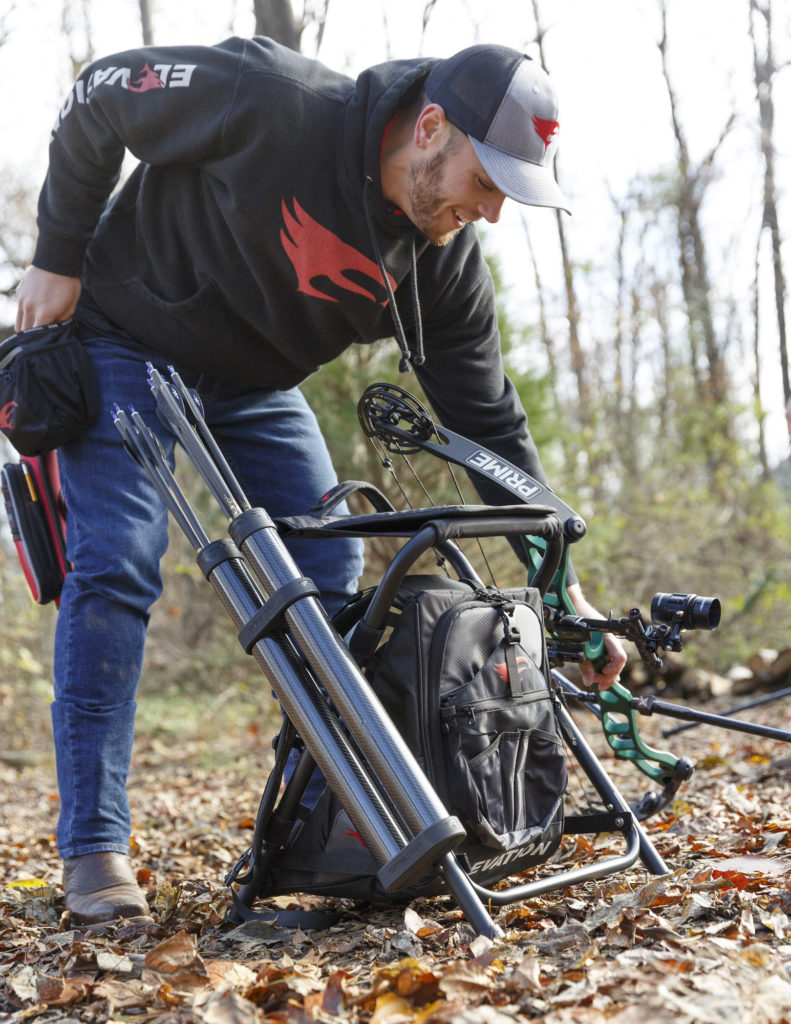 1. A Shooter Stool Increases Your Organization and Carrying Capacity
So it probably seems pretty obvious that you can take more things with you when you have a backpack. 
A shooter stool, like the Nest, is a stool/backpack combo that allows you to take more equipment with you on the course.  The surprising thing is not just how much space is made available given the addition of a backpack, but how much more organized your archery necessities can become when you have multiple compartments at your disposal. 
For example, the Nest is equipped with a total of 12 pockets and sleeves, enabling you to precisely customize your equipment organization to meet your personal preferences. 
If you prefer to pack light, there are still many benefits of a shooter stool. However, for those of you who prefer to have a back up (or two) of many of the most important items – the backpack-style stool makes it easy to pack all the tools and necessary equipment you need for on-the-go range repairs.
Ultimately, a shooter stool allows for optimal carry capacity and better organization of your items so you can have peace of mind and focus on your shoot.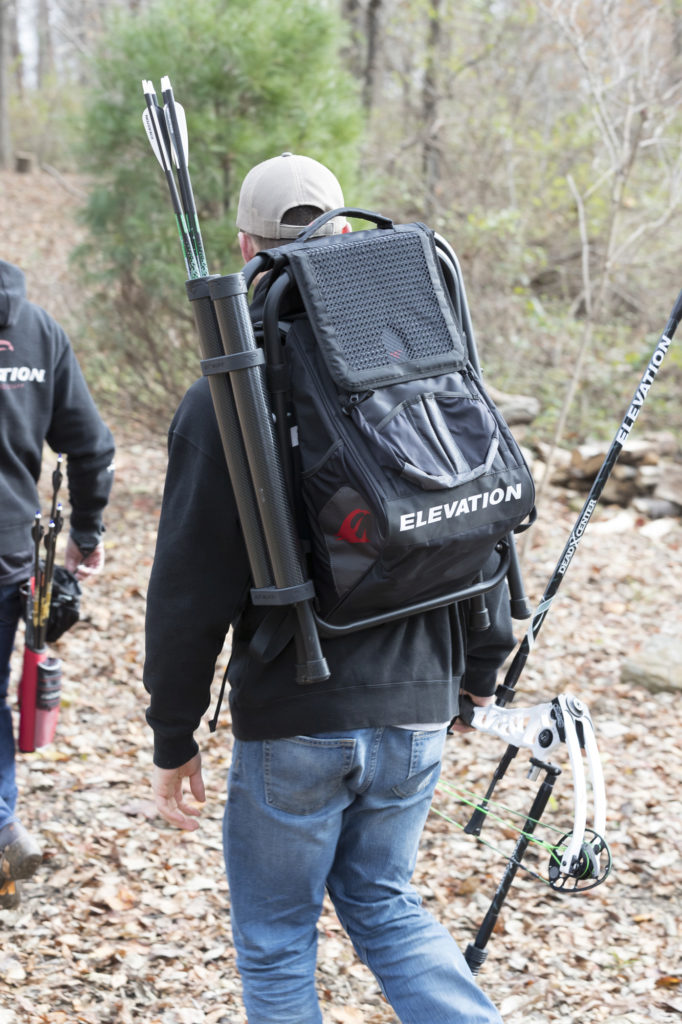 2. A Shooter Stool is Comfortable
When our team designed the Nest Shooter Stool, they didn't set out to attach just another backpack to another stool frame. 
We sought to make a range companion that would provide all-day comfort in addition to so many other great benefits.  The Nest Shooter Stool is equipped with an adjustable back pad that allows the shooter to fit the pack to their torso, thus keeping the pack load high and tight to your back for a more comfortable carry. 
Dual, ambidextrous quiver tubes provide ample arrow storage and eliminate the need to walk an entire 3D course with a quiver attached to your shooter belt.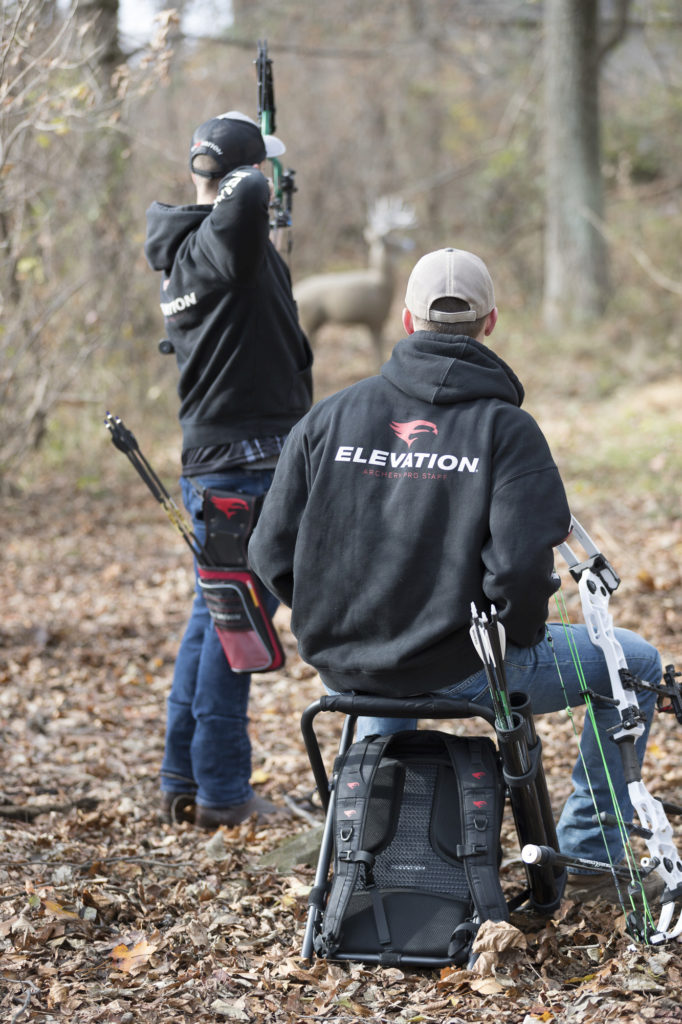 3. There's Always a Place to Sit
Don't underestimate the value of having a padded, ergonomic seat with you on the 3D course. 
Using a shooter stool ensures that you always have a comfortable place to take some weight off of your feet and relax.  However, not all stools are created equal. We've all surely experienced an uncomfortable stool that cuts into the back of the legs, or doesn't offer enough padding in the seat. 
Additionally, many stools have rather flimsy frames that may fail or twist on uneven ground.  That's one of the reasons why our engineers designed the Nest with a robust 300 lb. frame complete with load stabilizer straps, and an ergonomic foam-padded, mesh seat for both comfort and breathability. 
A 3D archery stool's ability to cut down on range fatigue can improve your performance by keeping you physically and mentally in the game during a long, strenuous day of shooting.
4. Curb Your Hunger and Thirst
Let's be honest, regardless of your equipment set-up, you're going to find a way to take some snacks with you. 
A shooter stool just makes it that much easier to do so.  In addition, you won't need to skimp on your energy bars to make room for that midday sandwich, due to all that available backpack space. 
Any athlete knows that nutrition plays an important role in performance and this concept applies to the sport of archery, as well.  Perhaps even more important is the ability to pack and carry an all-day water supply with you. 
For this reason, a hydration-compatible shooter stool like the Nest provides archers with yet another valuable benefit.
We hope this article provided some insights into the top 4 benefits of having a shooter stool and figuring out if a shooter stool is right for you.
What's your favorite feature or function of having a shooter stool? Do you have one that we didn't mention?  We'd love to hear about it in the comments below!
Also, if you're interested in purchasing or learning more about the Elevation Nest Shooter Stool mentioned in this article – you can learn more here. 
Posted in Blog, Uncategorized