How to Select the Perfect Hunting Pack
by Elevation Equipped on July 28, 2020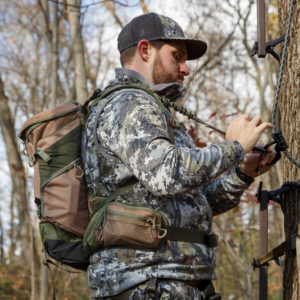 Choosing the right hunting pack is an important step in developing a gear system that works efficiently and keeps you well prepared and organized.  Western hunters have long depended on their packs as an integral part of their gear list.  Even serious whitetail hunters know the benefits of having a quality pack that will meet their needs during the hunt. 
With hunters looking to public land opportunities more and more, a pack that is comfortable and offers adequate capacity to carry gear for an all-day hunt, a few miles back on public land, is a necessity.  Choosing the right pack starts with evaluating your own hunting style, the gear you need to carry, and some of your individual preferences. 
Developing a hierarchy of needs in regard to form, features, and function will help you select the right option. 
Continue reading to learn more about how to select the perfect hunting pack for you and your hunts.
Western Big Game Hunting
If you're mostly hunting in the backcountry for larger game species, your pack selection will need to reflect the needs and hunting conditions that you will find yourself in. 
Western hunting situations often require a hunter to travel significantly more miles by foot than other types of hunting. Hunters don't always have the benefit of making it back to the truck between a morning and afternoon outing.  This means that they need to take everything with them that is required to pursue, harvest, and process an animal on their hunt. 
If you are headed out on a western hunt you need to select a larger pack to accommodate field dressing and game processing supplies, optics such as a spotting scope or binoculars, raingear, game calls, a GPS unit, extra clothing layers, food, water and even your weapon.  For this reason, a hydration compatible pack is advisable, as is a pack with numerous compartments to keep gear organized and readily accessible in a moment's notice. 
Another good consideration for western hunters is to have a pack that is equipped with a bow cradle.  When you have several miles to hike to get into the backcountry where the game you are pursuing is, it is more efficient to carry your bow as a part of your pack system.  The added pack weight that is realized from an additional amount of gear is better distributed when the pack features a waist or kidney belt so that the hunter can disperse the weight across their hips instead of carry all of it with their shoulders and back. 
For western hunting, ergonomic comfort is key. A pack with a rigid interior frame, or reinforced and adjustable back pad, that is equipped with comfort padding and air mesh fabric will help reduce sore muscles as well as perspiration.  Selecting a pack that has a high level of adjustability so that you can get a proper fit which, in conjunction with load lifter straps, will keep the load high and tight to your back and allow for the most efficient use of your energy. 
Furthermore, invest in a pack that has some level of durable water repellent properties, so that an unsuspecting rain shower doesn't soak the contents of the bag.  For hunters who will be in the field regardless of what mother nature throws at them, it is a good consideration to include waterproof accessory bags for some of your most vital necessities. 
We developed our PROTEKT™ multi-purpose accessory pouch with welded seams and watertight zippers in order to create an additional layer of protection for items that are susceptible to moisture damage.  Having an accessory pouch in your pack system provides a great place to store things like a phone, GPS, firestarters, and even snacks.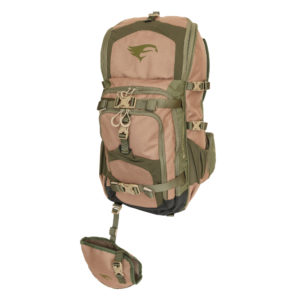 To summarize, when it comes to western hunting, the predominant considerations you will need to make capacity and functionality, comfort and adjustability, and durability and weather resistance. Our Emergent 1800 pack would definitely hit the mark for those hunting out West.
Whitetail Hunting
Some of the needs of whitetail hunters overlap those of Western big game hunters, however, there are many differences.  There is also a lot of diversity within the whitetail hunting world.
In fact, hunting styles, tactics, and terrain all vary greatly across the whitetail's range.  This means that there is no one "right answer" when it comes to selecting a whitetail pack. 
However, there are some considerations that you can keep in mind to ensure that you select the right pack for your own unique hunting situation. 
First, you need to evaluate your hunting style and where you hunt.  If you are a public land adventurer and find yourself several miles deep on an all-day hunt in the rugged mountains, your pack requirements will be different than that of a farm-country whitetail hunter who just has a few hundred yards to walk to get into his or her stand or blind.  
As with western hunts, planning an all-day trip to pursue mountain bucks may require a more spacious pack that allows you to carry all your necessities. 
Additionally, if you do most of your whitetail hunting from the ground while still-hunting, the pack you choose will be different than that of a hunter who chooses to hunt from an elevated position in a stand or a tree saddle.
Speaking of tree saddles, more and more whitetail hunters are employing this tactic in order to become more minimalist with their gear and reduce the weight of the equipment that will get them up the tree.  If weight reduction through saddle hunting is your cup of tea, you will likely look to a smaller pack. 
Be sure to choose one that is still roomy enough to carry all of your necessities, and more importantly, keep them organized.  A lumbar pack is a great option for both still-hunters and saddle hunters because it will allow you to reduce pack size and weight, while also allowing for a great deal of airflow to the hunter's back, reducing perspiration and human scent build-up. 
A quality lumbar pack that has a waist belt and multiple storage compartments will allow the hunter to keep necessities in the belt pockets.  Having various compartments for components like GPS, range finder, extra carabiners, lineman's rope, tree tether, and bridge. 
Furthermore, saddle hunters should consider a pack that has straps on the exterior of the pack, allowing for a climbing system of steps or sticks to be attached to the bottom of the bag where they will be secure and out of the way of snagging underbrush.
Whitetail hunters who use a number of pre-set stands during the season may find themselves naturally gravitating to a larger pack.  Since they will not be carrying a stand or climbing system with them on every hunt, they can afford a bit more pack weight and enjoy the benefits of having more room for additional gear items. 
One of the main considerations for treestand bowhunters, especially those who are chasing woodland whitetails in closer quarters, is pack accessibility and stealth.  A whitetail pack needs to be silent; equipped with brushed fabric and quiet zippers that can be operated with gloved hands. 
In most cases, treestand hunters will hang their pack on the side of the tree opposite their bow.  Noisy rummaging in a pack for calls, binoculars, or a mid-day meal is a good way to decrease your chances of success while hunting. 
For this reason, whitetail hunters should consider a pack that has a great deal of accessibility and allows for a calculated organization of gear from both within and outside of the pack.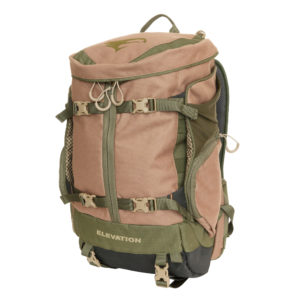 For example, we designed the Canopy Tri-Zip pack with a three-zipper assembly so that access to the bottom of the main compartment is made much easier. 
In addition, the Tri-Zip also features a number of exterior pockets that are contained by its side flaps.  This makes the accessibility of items that are more frequently used such as calls, handheld tree saws, wind-checkers, possible with a greatly reduced amount of movement and noise.
Turkey Hunting
Turkey hunters who chose to be mobile will benefit from a pack that is compact.  Even those turkey hunters who utilize ground blinds will typically not require a pack with the same gear capacity as western or whitetail hunters. 
A majority of spring gobbler hunting will occur during the first few hours of the day, so turkey hunters will want to prioritize efficiency and mobility when choosing a pack.  For this reason, a lumbar style pack, like our Forester Lumbar 650, is an ideal choice.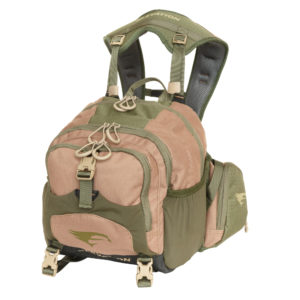 They are roomy and spacious enough to hold box or pot calls, extra ammo, miscellaneous gun supplies, and in some cases compressible decoys. 
Lumbar packs, with their waist belt assembly, can also offer a great deal of comfort if you have a long hike to get back to your preferred hunting spot. 
Turkey hunters will also benefit from a pack that offers concealment and should consider a camo option that will break up the pack's outline when a wary tom comes in range.
Scouting
The pack needs you have for post-season and pre-season scouting for western game, whitetails, and even turkey will vary from those you will encounter during the actual hunting season. 
Scouting day-trips do not require the same amount of gear as does an all-day hunt.  For one thing, you will not have to haul your weapon of choice along with you. Secondly, you can leave the game calls at home. 
Your priorities in selecting a quality pack for scouting in the off-season should be centered around a more minimalist design and weight savings.  You need to have a safe place to hold a GPS, your cell phone, vehicle keys, identification (if required on the land you are traversing), some snacks, and of course water or other hydration drinks. 
For this reason, a smaller pack that is hydration compatible and offers a few compartments for storage of those scouting bare necessities is the ideal choice for these situations.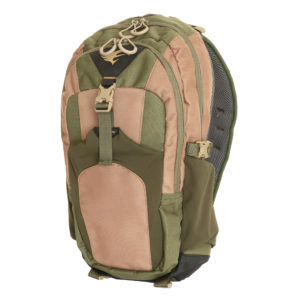 A smaller, lighter pack that is hydration compatible will keep you in the field longer by minimizing fatigue; helping your mind to remain focused so that you won't miss any important game sign that you encounter. Our Lowlands 750 or Forester Lumbar 650 pack might be what the doctor ordered.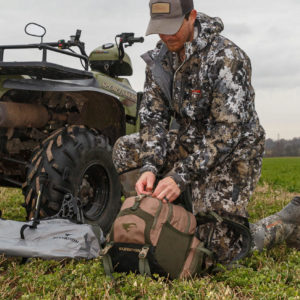 Which Pack Is Right For You?
As with any important hunting gear decision, choosing the right pack for the environment and situations you will find yourself in will start with a needs-based approach. 
Determine the pack requirements that will be created by your own unique hunting style and environment, and progress through your list of priorities from there. 
Still, a few universal truths are certainly present.  Any hunting pack you choose should be reliable, durable, comfortable, and allow you to keep your gear highly organized. 
Purchasing a quality pack from a reputable company who fully "backs" their products is a plus. Likewise, a quality product helps to reduce the probability of encountering an issue that can affect a hunt down the road. 
Be sure to check out our full line of #AboveStandard hunting packs on our website.
For more target archery and bowhunting content, be sure to check out our blog posts at Elevation's blog.
Also, make sure to connect with us on Facebook, Instagram, and YouTube for new product news, product releases, promotions, and product giveaways!
Posted in Blog