How To Select the Best Bow Case
by Elevation Equipped on September 2, 2020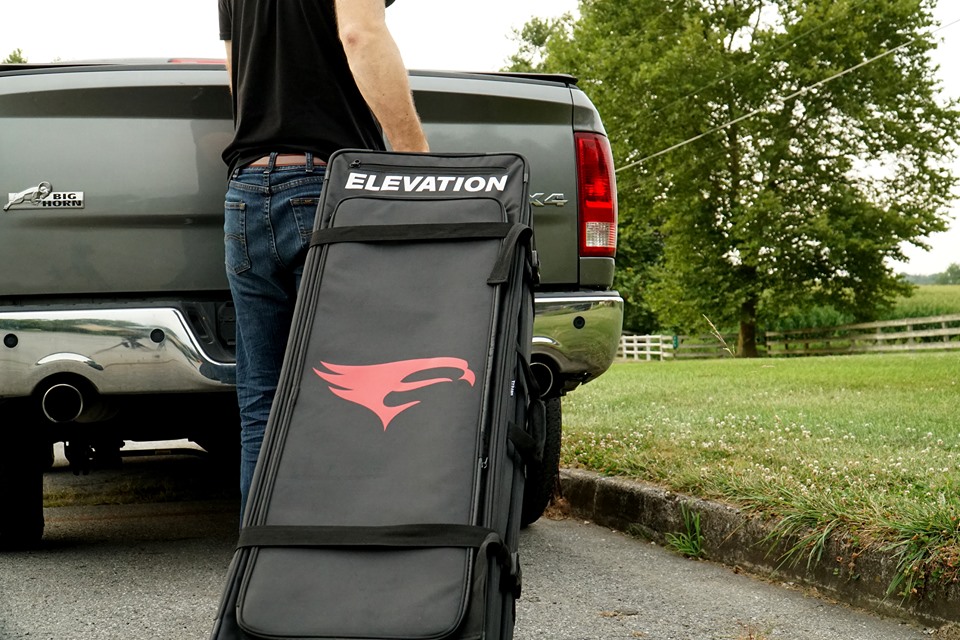 From Storage and Travel to 3D Target Archery and Bowhunting bow cases
Most serious archers put a lot of time, research, and "test drives" in before they purchase a new bow. When selecting the tools of your trade, details matter. What is right for one archer might be wrong for another.
Decisions about any piece of archery equipment should be arrived at through a needs-based approach that evaluates your intended usage of the equipment, along with your personal wants and needs.
In the same way that your decisions about which bow model you will shoot for the upcoming indoor, 3D, or hunting season will have direct impacts on your success and warrant careful consideration. Your choice of a bow case is also a very important decision that shouldn't be overlooked.
A high-quality bow case not only protects the investment you have made in your bow and archery accessories, but it can also provide a high level of functionality and organization that is specifically designed and customized with your needs in mind.
The bow case you settle on will be influenced by various factors. Continue reading to learn how to select the best bow case for you.
Bow Storage Cases
When selecting a bow case that is compatible with long-term storage needs, it is important to select a rugged and robust case that provides some structure around the bow itself.
Cases that are adequate for bow storage will incorporate some sort of "shell" structure in their design; be it a hard shell, or semi-structured. These types of cases provide additional protection to your bow while in storage. Additionally, the structured design provides for more storage options and space savings since they are designed to be able to be stored in an upright, freestanding position.
Storing a bow case in an upright position takes up less space in a closet or storage room. Structured and semi-structured cases also allow for other bow equipment and components to be stacked on top of them, which can also serve as an additional space saver if storage space for your bow case is limited.
Some bow storage cases are designed as simplistic bow boxes that can stow under a bed or in a closet. They can provide a great deal of protection to your bow, but are often designed to hold only your bow itself, creating the need to store other equipment elsewhere.
These types of cases may also vary in their transport capabilities, or convenience, if they are lacking wheels or grab handles. Semi-structured cases, such as our Altitude 46 TCS or Jetstream systems, are strong and reliable enough to provide a long-term storage solution for your bow while also doubling up as a perfect travel companion to the next tournament, or even a destination hunt.
Having numerous compartments within the interior and exterior of these semi-structured cases also provide a convenient means to store all your bow equipment; including sights, stabilizers, arrow boxes, archery tools, and accessories.
Travel Bow Cases
The case you select for traveling with your bow equipment will largely depend upon what type of traveling you will be doing. If you plan to jet set to the next ASA shoot, your travels will require a different case than the person who is heading to the mountains for a weekend bowhunting trip.
Longer trips with your bow require additional efficiency and a wise use of space to enable you to pack all your gear in a consolidated way. Moreover, if you plan to fly with your bow equipment, you will need a case that has a shell or semi-structured interior wall.
The cargo hold of a jetliner is a rough place for luggage, and your bow case needs to be able to withstand some abuse when it's not in your hands. A case that is equipped to carry two bows is also a good option when you are planning a long trip. This allows you to take your back-up bow, in case your primary bow sustains damage from a derailment or other issue at the competition.
Furthermore, you will want to consider the overall storage capacity of your bow travel case. Having pockets for sights and other bow equipment, and even some clothing items is a serious plus when it comes to traveling with your bow. This keeps everything well organized in one place and eliminates the need to tote around various bags of additional equipment items. You should also give priority to a case that has multiple grab and carry handles, as well as one that is equipped with roller wheels.
Remember, while a travel system such as the Elevation Altitude 46 TCS or Jetstream is designed with the target archer in mind, these are excellent bow case options for bowhunters who are embarking on a destination hunt that requires a flight or many miles on the road.
The storage capacity included within both the Altitude and Jetstream case design is helpful and beneficial in hunting applications, as well. Being able to pack your bow, hunting gear, and even a long weekend's worth of clothing in one place creates a significant space savings in a vehicle and can be a huge convenience factor.
In other scenarios, a soft-sided bow case that features a tie-down system with a string and cam cradle, an arrow pocket, and several accessory pockets may be just the ticket for a weekend excursion to hunting camp.
Whether traveling to a competition or to the hunt, consider your gear list, your packing system, and how you will get to your destination, as evaluating these factors will greatly assist you in determining which case is the best fit for you.
Target Bow Cases
Specially designed target bow cases are made with the target archer in mind. Many compound target bows will feature a longer cam-to-cam measurement than their more compact hunting bow relatives.
So, most target bow cases are designed to accommodate longer bows. There are also many options for double-bow cases for target archers. Target archers need to make many considerations that are unique to their sport and often vary from the needs of bowhunters.
Long stabilizers pockets are a key component that should be found on a target bow case, in addition to other accessory pockets, and sleeves for sight boxes or arrow tubes or boxes.
Target bow cases that have an adequate number of accessory pockets allow a competition archer to travel with all the necessary bow components, tools, and replacement equipment. Most target bow cases will feature a structured or semi-structured shell to provide additional protection for the precision equipment that they carry.
Many competition archers will opt for a travel case system, like our Jetstream TCS, that features an exterior shell and incorporates a soft-sided range case. This allows the shooter to get to the competition with their equipment receiving maximum protection, and once on location, they can eliminate the bulk of the exterior shell and utilize the range case for their bow and its most important accessories.
When you are on the road at a multi-day competitive shoot, the mental side of the sport becomes glaringly evident. So, the convenience factor that your target case and travel system can provide can help to put your mind at ease and keep your concentration centered on your shot sequence and performance.
Convenience, durability, and reliability are vital factors in choosing your next target bow case and their importance cannot be overstated.
Hunting Bow Cases
Truthfully, any bow case can be utilized as a hunting bow case. Numerous bowhunters have chosen to use one of our travel case systems as their go-to hunting bow case.
As mentioned, these types of travel systems may even become a necessity if you have a long-distance hunt planned that requires airline travel. Still, there are other instances when a hunting-specific bow case is the best fit for a bowhunters travel and hunting needs.
The type and style of hunting bow case that you choose will largely depend on where and how you hunt. If you are a weekend warrior, a soft-sided case with a shoulder sling may well be your best option. This type of case is lightweight, compact, easy to carry, and can still provide adequate space for your bow, quiver, arrows, stabilizer(s), and even other items like attractants, calls, and scent elimination sprays.
These cases take up minimal room in a vehicle and once you arrive at camp; and they can be very convenient options for many, if not most, bowhunters.
If you hunt close to home, or within a short truck or ATV ride from your camp, it is quite possible that your best choice for a case is something that is lightweight and packable while still providing protection from the elements and keeping your cams and strings safe to and from the hunt.
That concept was the genesis behind the design of the Elevation Packable Bow Case, which was created to provide your bow with a weatherproof cover- keeping it clean and clear of debris on your hunting excursions. Its packable nature allows it to easily stow in a hunting pack, ATV toolbox, or the seat pocket of your vehicle.
For hunters who have embraced the challenge of a more aggressive mobile hunting style, or whose primary hunting areas are public lands, their bow case of choice will undoubtedly be a bit different.
This style of hunting requires an added level of organization and efficiency. Oftentimes, these bowhunters will be "gearing up" in a parking area adjacent to the access point on a large piece of public. Many hunters prefer to wear separate clothing for travel in order to minimize human scent on their gear, and then dress into their hunting clothes by their vehicle.
This style of hunting requires that a bowhunter give some thought not only to how they transport their bow, but how they will organize their hunting apparel so that they can quickly dress and hit the woods before prime time. Mobile hunters can save space, and time, with a bow case that integrates with their clothing storage.
Our Suspense bow case offers this capability and provides a great deal of convenience to a mobile hunting system. Complete with a padded, waterproof foot mat and a detachable, hanging wardrobe with zippered mesh compartments – the Suspense makes mobile hunting a great deal easier.
Having your bow, arrows, accessories, and hunting apparel contained in one case can create a great deal of convenience. The all-in-one Suspense bow case can help you to save enough time before the hunt to be able to make those "afternoon-rush-out-of-work" hunts a viable option that may not have been otherwise.
Recap
Arriving at the best bow case for you and your hunting or target archery endeavors starts with evaluating how and where you plan to compete or hunt.
The situational specifics relative to each individual archer will help steer you in the right direction when it comes to selecting a bow case that checks all the boxes and fulfills your every want and need.
For more information on the specs and components of our quality bow cases, be sure to check out our full line of both Elevation HUNT bow cases and Elevation Target bow cases.
For more target archery and bowhunting content, be sure to check out our blog posts at Elevation's blog.
Also, make sure to connect with us on Facebook, Instagram, and YouTube for new product news, product releases, promotions, and product giveaways!
Posted in Blog