How to Choose the Right Target Archery Quiver: Hip Quivers vs. Field Quivers
by Elevation Equipped on May 29, 2020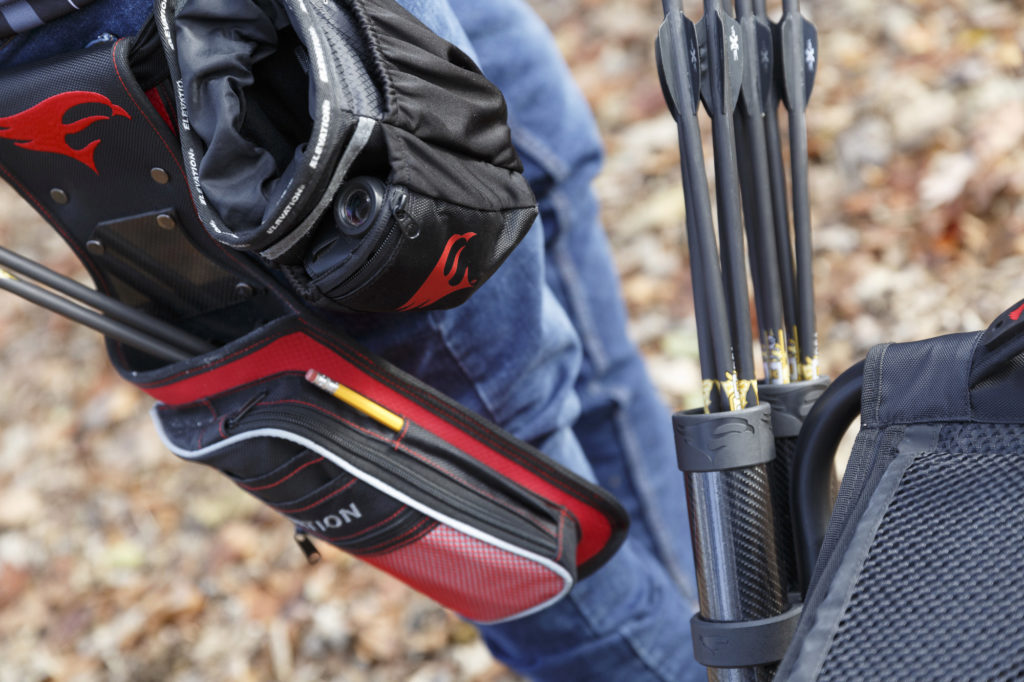 The mental aspect of the sport of archery is well documented. Without mental clarity, focus, and a consistent shot process – the best equipment in the world can't ensure your success. After all, a bow doesn't put an arrow in the 12 ring by itself.
However, quality equipment can eliminate unnecessary stressors and allow you to focus on your shot. Finding the right equipment starts with selecting a quality and reliable product.
In doing so, you'll find the right combination of gear that will meet your needs and help you operate efficiently and effectively.
One of the most quintessential items for target archery is a quiver. The style you choose will depend largely on your own personal preferences.
Two of the most popular styles of target archery quivers are the Hip Quiver and the Field Quiver.
Below, we will discuss the benefits and features of each target archery quiver in order for you to determine which quiver is right for you.
Hip Quiver
Choosing a hip quiver comes with a lot of benefits. Archers prefer them because they have a lot of capacity for both arrows and equipment.
A right-handed hip quiver hangs off the shooter's belt next to their right hip and has arrow tubes that angle forward, making it easy to carry a lot of arrows in an easily accessible manner.
The Elevation Adrenalin Hip Quiver, for example, has four arrow tubes, providing more than enough room to organize a full dozen (or more) arrows.
In addition to arrow capacity, hip quivers also offer shooters a lot of extra room for tools, extra releases, kickstands, scorecards, snacks, etc.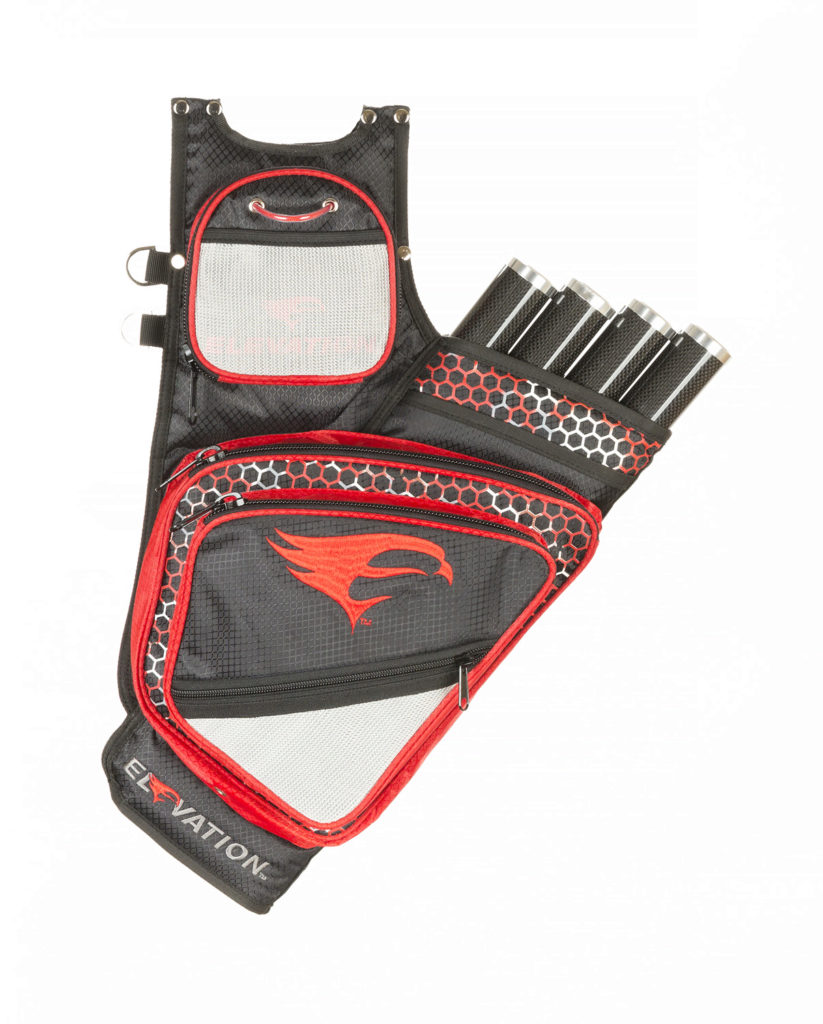 Our Adrenaline Quiver features two large zippered compartments, a zippered front mesh sleeve, a zippered release pocket with two internal mesh sleeves, a pen pocket, and a large exterior sleeve that provides ample room for a kickstand, and a reinforced D-loop for additional accessories.
Shooters who like to take some extras along with them to the range or the 3D course will enjoy the roomy nature of a hip quiver and the storage options that they will provide.
Many archers see the size and storage capacity of a hip quiver as a checkmark in the "plus column", however, providing these benefits comes with a tradeoff. Some archers may find a hip quiver to be bulkier and heavier than they prefer, especially for walking a 3D course for an entire day.
A correctly fitted shooters belt and a hip quiver with ergonomic padding can definitely remain comfortable for an entire day of shooting.
However, some archers prefer to utilize a release pouch on their belt along with their quiver, or they may take a shooter stool to the 3D course with them, making the extra room and storage pockets provided by a hip quiver less necessary.
When the preference is a more streamlined and lighter-weight design, many professional archers opt for a Field Quiver.
Field Quiver
Like a Hip Quiver, a Field Quiver attaches to the shooters belt and a right-handed shooter, for example, will position the quiver by their right hip.
The angle of the Field Quiver is the opposite of that of a hip quiver. Instead of the fletching of the arrows angling forward, they angle backward, behind the shooter.
Field quivers are more compact and streamlined than most hip quivers. Due to this fact, they have fewer and smaller storage and arrow compartments.
However, that's not to say that ample storage room isn't available.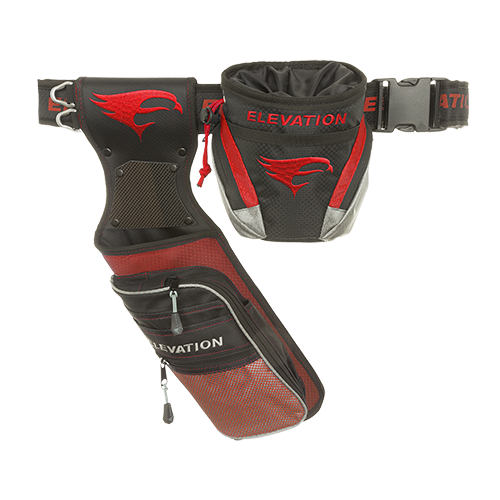 The Elevation Nerve Field Quiver features a larger zippered compartment for things like wrench sets and spare arrow components, a front zippered mesh pocket, two exterior sleeves large enough to hold a kickstand, a pen pocket, three arrow compartments with carbon fiber dividers, and two metal accessories loops.
Many professional archers who want to capitalize on the lighter and sleeker design of a field quiver add a release pouch to their system in order to provide additional room.
There are many options when it comes to release pouches, and choosing which one to add to your shooter belt will be determined by your needs and preferences.
For example, if you like to take an extra release with you, and you spend most of your competitive archery time on the known-pro course, you may want to opt for our Rectrix release pouch.
The Rectrix pouch features a range finder pocket, an internal microfleece-lined divider to hold two releases, and a waterproof rain fly cover.
If you're simply looking to add a safe place to store your release while taking advantage of the many benefits of a field style quiver, our tried-and-true Core or Pro pouches might be just the ticket.
Ultimately, a hip quiver that can provide an all-in-one solution can be the more economical choice. Many professional archers prefer the more customizable and modular nature of a field quiver and release pouch system.
Decision Time
Choosing a quiver, and making the right choice the first time, starts with assessing your individual wants and needs. No two shooters are the same and the preferences of one will be different than another's.
If you are new to the sport, talk to your mentor, or a fellow competitor that you trust, and get their two cents on what kind of quiver is the best choice for the type of competitions in which you will most regularly be shooting.
Most veteran archers have evolved their equipment systems over time and can help by pointing you in the right direction.
Whatever type of quiver you choose, be sure to hit the range with both functionality and style.
For more information on all of the Elevation Target archery quivers, or to buy your very own hip or field quiver, visit the Elevation website here.
Posted in Blog