Choose the Right Pack for Spring Turkey Hunting
by Elevation Equipped on April 3, 2019
Picking a turkey hunting pack
Springtime means warmer weather, longer days, and gobbling tom turkeys! Whether you are new to turkey hunting, a tested veteran hunter, or maybe even a slam enthusiast, the pursuit of spring turkeys is an extraordinary time to look forward to. There are many methods and strategies that can be implemented to fill your spring turkey tag, each method brings unique necessities for calling and equipment. The right hunting pack for turkey season offers form and function that gives you the ability to focus on the hunt, with the confidence to pack the necessary gear to be successful, and not restrict mobility.
Pack Light to Run and Gun for Spring Turkeys
From the roost to feed fields, and strutting grounds to nesting areas, wild turkeys cover a lot of ground. Hunters often spot a group of turkeys moving across an agricultural field, seemingly wondering about and pecking at the ground, and in a matter of minutes, they can be gone.
For the hunter on the move, using calls to locate a gobbling turkey, or spotting birds at a distance with optics, and closing the gap to get ahead of them, packing light and moving quickly is the name of the game. There are items every turkey hunter needs access to, and run and gun hunters are no different. A lightweight, but sturdy pack with easy access to critical items like calls and shells, and storage for bulkier items is the perfect solution for the turkey hunter on the move.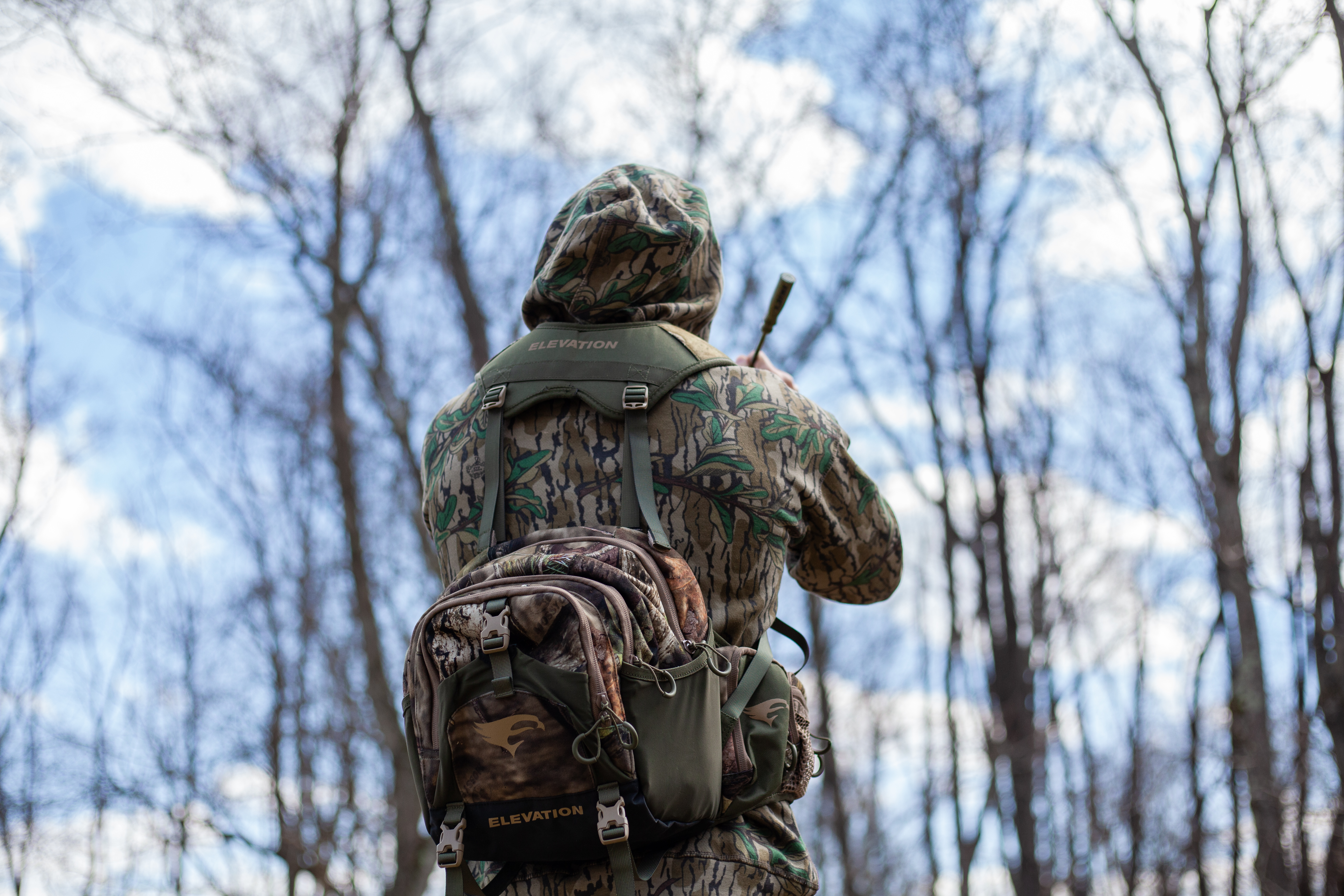 Must-Have Items to Pack for Run and Gun Turkey Hunting
Hunting License and Carcass Tag – Make sure you're legal each time you start a hunt, many states require you to fill out and sign a carcass tag if you harvest a bird, so make sure you've got your tags, ink pen, and a way to fasten your tag to your trophy.
Shotgun Shells – It may sound obvious, but leaving home and forgetting that box of shells is a sure way to ruin a hunt. Take the time to make a spot in your pack where your ammunition belongs. Dedicate a pouch or pocket in your pack to shells and make it easy to quickly verify that you've got what you need and are ready to go.
Turkey Calls – Possibly the best part of spring turkey hunting is the excitement of calling. Tom, jake, and hen turkeys are extremely vocal during the spring breeding season. Getting turkeys to respond to your calls and actually come in to investigate makes spring turkey hunting magical! There are plenty of options when it comes to turkey calls, for the run and gun hunter, limiting yourself to two or three calls helps to keep things simple. Calls to consider include:

Friction Call – For the run and gun hunter, a small friction type box call is a fantastic choice. A quality box call can produce small vocalizations like cuts and purrs while being versatile enough to sound off loud yelps for locating birds or cutting the wind.
Mouth Calls – Choose a diaphragm call with medium volume that you are comfortable running. A diaphragm mouth call is lightweight and takes up very little room in your pack. Considering their small size and weight, packing an extra mouth call or two is a great idea.

Bug Spray – Unfortunately, the same warm weather that gets turkeys fired up is also ideal weather for ticks and mosquitos. Pesky biting insects are not just annoying, but can carry diseases like lyme disease, rocky mountain spotted fever, and alpha gal allergy. Don't leave the bug spray at home.
Versatile Layering – Even in warmer climates, springtime mornings can be chilly. Spring weather is also notorious for pop up rain showers. Choose versatile, camouflage, and breathable rain gear for both layering to take the chill off and weather protection when needed. Use your rain gear for double duty as a warmth layer on chilly mornings to help keep your pack light.
Miscellaneous Items – A turkey hunters pack includes a variety of items for the hunt and hunter, to keep your pack light for run and gun hunting, consider each item. Necessities to add to your turkey hunting pack include:

Camo Gloves and Face Mask – Turkeys have amazing eyesight, don't give them an excuse to pick you off and ruin the hunt. Gloves and a face mask offer that last layer of concealment that can mean the difference between getting busted and filling your tag.
Range Finder – Calling turkeys in close is ideal, but old warry toms are notorious for hanging up just outside of shotgun or bow range. Determining range, especially in open agricultural fields can be difficult. Ranging landmark items like a stick or a weed to determine range before making a single yelp is a great strategy to know when a tom comes into your effective range.
Snacks and a Drink

– Waiting out a tom with hens takes perseverance, and patience. Warm afternoons, and miles in the turkey woods can work up a thirst and hunger. Make sure your pack has room for a drink and a couple snacks to get you through the hunt. When the hens go to nest and that tom comes to investigate your calls, you will be ready.
Forest Lumbar 650 Elevation Pack for Turkey Hunting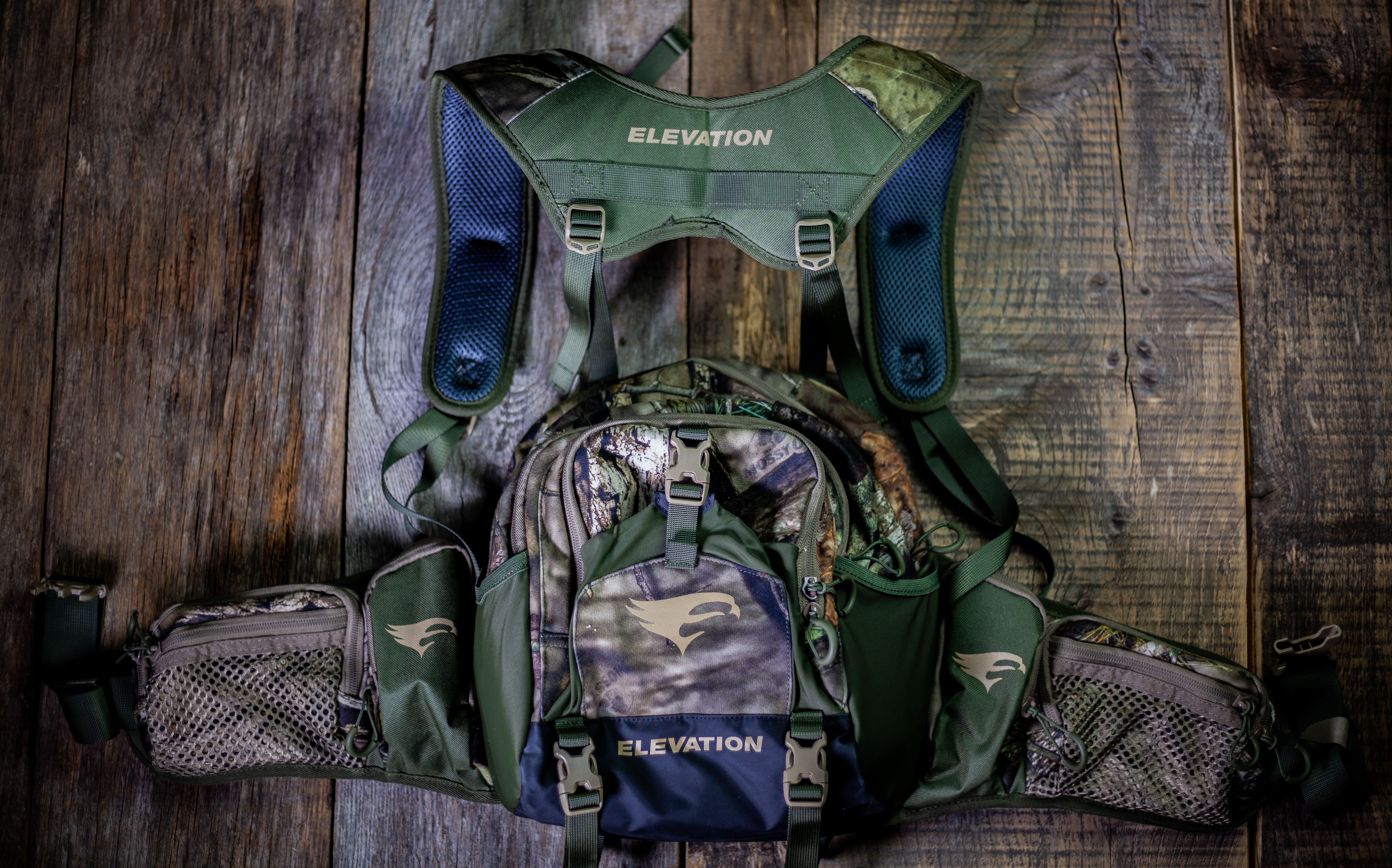 Lumbar style packs are an ideal solution for turkey hunters running and gunning this spring. They offer a minimalistic approach to keeping your necessities at hand without the bulk of a more traditional style pack.
Elevation Equipped offers an outstanding lineup of hunting packs to keep your gear organized and with you, while staying comfortable and functional. The Forest Lumbar 650 is the perfect pack for turkey hunting this spring. Built on a sturdy air mesh yoke and waist belt with articulating EVA foam, this pack is built with comfort in mind. The pack offers 650 cubic inches of storage for your gear, spread out across three tiered pockets keeping the form factor small and the functionality big. Bedroll style, garment straps offer versatility to effectively store and pack clothing layers with easy access. The feature rich Forest Lumbar 650 is a fantastic option to get your gear into the spring turkey woods with reliability and mobility this season.
Posted in Blog